The Akron Marathon has introduced a new route this year. Runners could enjoy beautiful views of North Hill and Merriman Hills. The route did not include Firestone Park and the Towpath Trail and the main reason for it was the progressive construction on the Brown and Towpath Street. It was the first change the committee had to present for over 12 years.
Though there are some changes, members of the committee consider them to be improvements that will attract new runners and a lot of them wanted to experience new emotions as well. This step will definitely help the marathon grow and a lot of runners tried it already.
As a result, the runners could come to the High Street where the marathon was supposed to start and get registered. Runners could also assess the benefits of the new route and they noticed that there was no more crowding at the start and they did not have to run on the grass. Another benefit of the route is that it is much flatter and is not that tiresome. Visitors that came to see the marathon could also enjoy more views and see runners more often than before.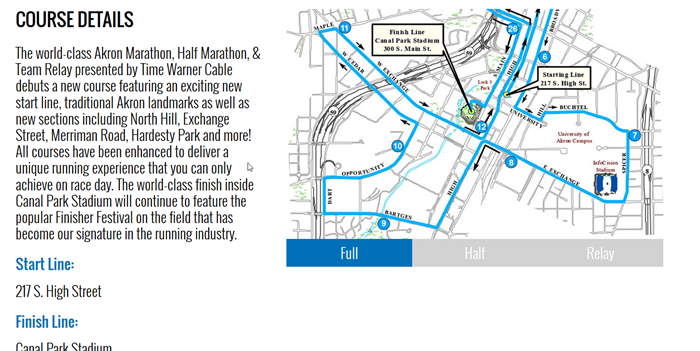 For example, when a runner entered the 5-mile North Hill loop, guests were able to see the runner for five times in the first 11 miles of the race. At the same time, half-marathon runners will be able to run in a separate pattern which will help them not to bump into other runners. The route of the marathon goes through the most populated areas of West Akron and runners will see the red carpet rolled out. It seems to become a tradition and it provides all the runners with positive emotions that cannot be compared with anything else. More people and new views of the city made the marathon different from others.
More Like This: