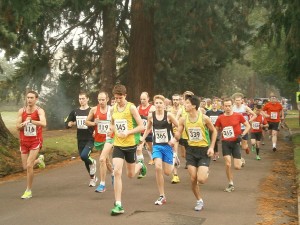 Keeping the spirit and enthusiasm of the Olympics alive, Camberley and District Athletics Club hosted the 20th Annual Julian Farrell 10K Road Race on Sunday 7th October, from Kings International College in Watchetts Drive. Over 100 runners set off round the streets of Camberley in very pleasant running weather – ie dry, if a little chilly for the spectators, but given the weather earlier in the week, fortune was on our side.
First home was Alexander Frazer from Aldershot and Farnham District Athletics Club in 33m 21 Sec.
2nd was Mark Greenwood – also from AFD, and 3rd was Graham Robinson from Sandhurst Joggers.
1st male vet was Mark Symes.
1st lady home was Lesley Whiley from Reading Road Runners in 40m 9sec
2nd  lady was Laura Hales from Windle Valley Runners and 3rd was Paula Fudge from Windsor Slough and Eton Club.
1st female vet award went to Jo Obertell, also from Windle Valley.
1st male U21 was Dane Blomquist from  Camberley .
1st male team was from AFD and the 1st female team from Windle Valley..
There was also a Junior 3K Fun Run held at the same event within the grounds of Kings International with over 100 runners taking part.
The winner was: Ethan Forster from Camberley
2nd was  Alexander Rodrigues from Camberley
3rd was  Callum Crook from Havant
The club are grateful for the help they received from several members of the Camberley Air Training Corp in running the event on the day.
A full set of results is available on the club website: www.camberleyathletics.org.uk – along with details of our next local event – the Annual Cross Country Event at the Frimley Allotments in Old Bisley Road on Sunday 18th November – this is open to all ages, either running as individuals or as teams from clubs – all are most welcome.
More Like This: