Few runners who took part in the inaugural Derby & District RSPCA Carsington 7 in June 2012 will forget running around a Derbyshire reservoir in monsoon like conditions.  Yet, against all the odds, many returned to do the race again on Sunday 9th June 2013.
This time conditions were perfect. Cloudy but dry, cool, with hardly a breath of wind.  And it wasn't only the weather that was different. The race had a sponsor – Flint Bishop the Derby & Ashbourne based solicitors – and a much more polished and, dare I say it, "professional" degree of preparation. And yet, at 9.30am, with more than twice the number of runners as in the previous year coiled like springs and ready to go …….. there was a false start!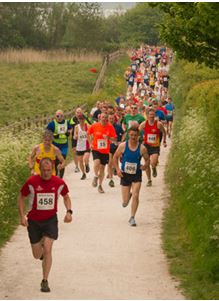 Having solved the technical hitch with the siren, and lined up the runners for a second time, they finally set off on their 12.5km (7.76 miles) circuit of the reservoir.
Off went the organisers to start the mile long "Stones Island Spin" fun run and, before they knew it, the lead cyclist for the 7+ was returning closely followed by the clear winner – Darren King of Clowne Road Runners – who completed the circuit in an amazing 45 minutes and 17 seconds.
No one had anticipated a sub 6 minute mile pace over the, at times, hilly and uneven terrain around Carsington. Yet here was the winner, back before the cameras were raised or the video recorder running!
330 other runners followed Darren, over the next hour and a quarter. People of all levels of fitness, of all shapes and sizes. Even one dressed as a cow!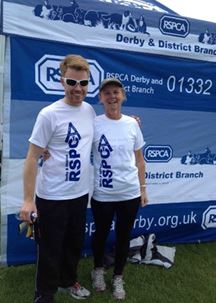 And each runner was warmly welcomed home by the watching spectators and Derby  & District RSPCA staff and volunteers as they made their run in towards that welcome finish line.
Yes, 2013 was different, but the relief and exuberance after the event was the same. Look out 2014 …… we'll be back.
Ian Mosley
June 2013
More Like This: