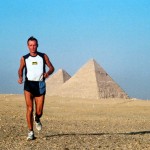 Hey Runners,
Most people like a holiday – even a running holiday to a wine region or marathon of a lifetime. But imagine running around the whole world and taking five years to do it!
Serge Roetheli has quite understandably now hung up his running shoes – turning to new adventure and endurance challenges.
The determination and beautiful images shown by the new running film based on Serge's adventure embody the impulse that we all have when we put our trainers on – to get out in the great outdoors and exercise our freedom.
Your Weekly Running Inspiration:
Serge Roetheli is a world-class endurance athlete and star of a new documentary film called 25,000 Mile Love Story.
In 2000 – 2005, Serge ran 25,422-miles circumnavigating the globe. The trip took 1,910 days with the help of his wife, Nicole.
Race-Calendar.com caught up with Serge to ask about the run. Read the full interview by clicking here.
Race Reports & Photos:
Race Report: Bowood Triathlon, Wiltshire on 30th June 2013
The magnificent grounds of Bowood House in Wiltshire provided a perfect venue for the Event Logic UK's latest 'Bowood Triathlon series', on Sunday 30th June.
The closed road event attracted a turnout of well over 300 adult competitors from all over England. Read more…
Race Report: 2013 Clif Bar 10 Peaks, UK
The weekend of 29th June saw the return of the 10 Peaks event in the Lake District, now with a new headline sponsor, Clif Bar. There was another key addition to this year's event, the introduction of the "short" course, designed for those competitors that saw the 73km long course, with it's 5600m of height gain, a step too far. Read more…
Race Report: Lancaster & Morecambe AC, 9th July 2013
The latest on the club runners from Lancaster & Morecambe AC, courtesy of Road Captain, Louise Gardner:
The second Lancaster Marathon was held at the end of June and the challenging 26.2 miles takes the runners over some very demanding climbs over Quernmore. Read more…
Race Report: 35th Gold Coast Airport Marathon, Australia, 6 – 7 July 2013
The Land of the Rising Sun dawned brightly again at the 2013 Gold Coast Airport Marathon.
Japanese runners won both the men's and women's marathons in course record times, while taking the top two spots in the men's race.
School teacher Yuki Kawauchi, 26, took out the men's race in a course record-equalling 2hrs10mins01secs with countryman Taiga Ito (2:11:52) second and Eritrea's Tewelde Hidru (2:13:09) third. Read more…
LES SALLES Trail en Haut-Forez…
pas si simple, mais que c'est beau !.
Les quelques 240 participants à la 5eme édition, LES SALLES Trail en Haut-Forez ont été accueilli par un ciel, partiellement voilé, voire même menaçant, mais sans pluie sur les trois distances proposées…15,25, 45km avec respectivement…420, 880, 1720m de D+. Lire…
Running Offers:
Get a free water bottle and 5% off with any SportsBra order over £35.
Just go to the I Love Running page at Facebook to claim the coupon code.
Offer ends August 22 2013.
Upcoming Races:
Feature Race Map:
Races in New Zealand courtesy of Race-Calendar.com. Add a race. Embed Map.
Have a great running week….The team @ Race-Calendar.com
More Like This: