Sue Ryder's event season 2013 got off to a flyer last Sunday as 1250 people entered the Keighley BigK 10K run organised by the Sue Ryder Manorlands Hospice fundraising team. Despite weather than was more suited to penguins than people over 1040 turned up to brave the cold and take part.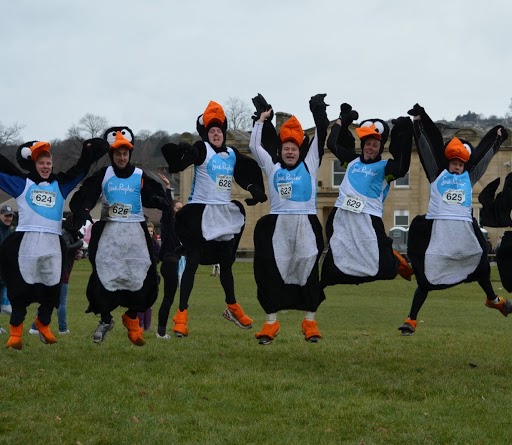 It is now estimated that approximately £47,000 was raised for Sue Ryder along with 70 bags of donations for our shops.  Event organiser Andrew Wood said "This is a great total and will make a huge difference to the care we provide for our patients not just within the walls of the hospice but out in the community through our growing community team.  It's also great that the event gets the people of the district active and it's fantastic to see participation levels grow year on year. This is now one of Sue Ryder's biggest events and it's a really encouraging sign to have increased numbers by so many. Hopefully this trend will continue throughout the year.
Keighley and Ilkley MP Kris Hopkins started the race sponsored by Leeds City College Keighley Campus, White Rose Volkswagen, Airedale Shopping Centre and Convenience Hire.  Runners and walkers were guided and encouraged around the multi – terrain 10K route by a team of over 70 volunteer marshals.
Results
1st – James Mountain in a time of 35mins 50 seconds.
2nd – David Kirkham was runner up
3rd – Julian Hood
Local girl Helen Glover was the first woman home in a time of 39mins 55 seconds.  Second was Holly Williams.
There were also some stunning performances by the juniors, many of whom were representing our partner Keighley and Craven Athletics Club.
Full results and confirmation of Gold, Silver and Bronze in each category, indicated with a trophy, are presented on this link Keighley BigK 10K results table .
Corporate team results
To view the results table for team entries see:  Keighley BigK 10K team results . Please note all 5 entrants from a team had to finish for the team to be displayed. Acorn Stairlifts team No. 2 'The fantastic five' won the prize for the team that had raised the most in sponsorship with a brilliant £2836. Oakbank School win the award for the most entrants in corporate teams as well as having the fastest team.
Thanks to all who took part, helped out and helped to promote the event.
Courtesy of  'woodentops'
More Like This: