The more adverse the conditions the greater the fun
The Black-Forest TRAIL-MANIAK offers unique experiences and overwhelming emotions
The weather forecast for the trail running event was catastrophic. 100 percent of rain. While
other vast areas in Germany sank beneath the water, went at the weekend in Simonswald
over 400 athletes at the start. And found the conditions they love: scenic trails, difficult turf
and perfect organization with a lot of heart and soul.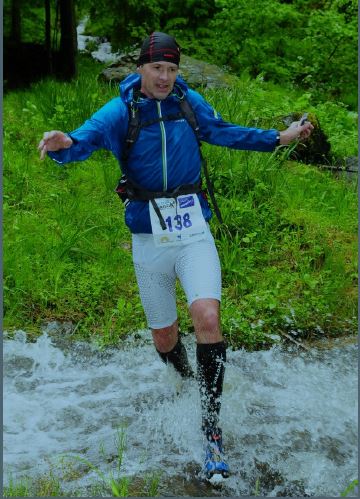 It is raining outside not only it pours. What are you doing here? Are the others all crazy to want
running in this weather 59 km over rough and smooth? You meet old friends from other races, look
resolute faces. Suddenly the starting gun. Then you walk over to your hotel where you attract your
warm duvet as the strongest magnet in the world. But your will to finishing this thing is stronger,
through streams, mud and mist, rain, wind, and despite the cold, because that you have come to
the Black-Forest.
International elite in the lead.
Alexandre Mayer had slept particularly well in the gym of the
TRAIL CITY. Although it gave the experienced Austrian
Thomas Bosnjak in the two-day RaidLight Masters
competition a tough fight, but could just as compatriot
Michael Spies no longer intercept the French on Sunday
about 28 km. Bad it got the co-favorite Spanish Javier
Rodrigo from the 226ERS-DE Powered Team. He proposed
after a fall violently on the chest, rank one minute after air,
but gritted his teeth and finished well to fourth place. Victory
in the 58 K took the Englishman John Pares.
Children and panoramic runner.
How the world looked grey on Saturday, so beautiful the sun
shone on Sunday for the other competitions. Second to none
Freiburg's local hero Mark Jenne won the Zweitälerland
distance of 20.5 km and 750 vertical meters in 1:18:40,4 h.
Raphael Schaffrik gained the 10.8 km in 0:43:33,1 h. In contrast time was the at the TRAILMANIAK
KIDS and JUNIOR run incidental. The focus here is on the pleasure and movement, so
that all children are winners and everybody received nice prizes and of course a certificate.
Good mood in the TRAIL-CITY.
In addition to a fantastic track a TRAIL-MANIAK event lives from its enterTRAIment program. This
includes everything from first-class meals with delicious fresh cakes to lectures by experienced
runners like Rafael Fuchsgruber of RacingThePlanet. Both the happy faces of the finishers and
their conclusions clearly say: "The run is definitely recommended. We´ll come back next year!"
The Black Forest guarantes trail running
in its original way.
Facts & Figures.:
Event Black-Forest TRAIL-MANIAK
Date 31th of May till 2nd of June 2013
Location Simonswald, 25 km north-east of Freiburg (GER)
Distances RaidLight TRAIL-MANIAK Masters 58 K + 28 K / 2.000 + 1.340 asc
Woly Sport TRAIL-MANIAK 58 K / 2.000 asc
TRAIL-MANIAK JUNIOR 2.140 m
TRAIL-MANIAK KIDS Run 500 m
11. Panoramalauf ZweiTälerLand 20,5 km
Jedermannslauf 10,8 km
24 h non-stop hiking on the Zweitälersteig 108 km


Results www.trackmyrace.com
Pictures www.sportograf.com
Video www.youtube.com
Experience report www.trailrunning.de
More info www.trail-maniak.com
Thanks to all participants and sponsors, particularly of
Lafuma, La Sportiva, Sziols, RaidLight, Woly Sport, 226ers, Clif Bar, Erdinger Alkoholfrei, Milka,
Northland, Orthomol Sport, Peterstaler, Sparkasse, Zweitälerland and the village and school of
Simonswald.
Contact.
TRAIL-MANIAK Sport, Tourismus, Consulting KG
Michael Raab, Partner / Lead Communication
Tel. +49.170.333 330 6
mr@trail-maniak.com
Anglerstraße 5a, D-80339 Munich
More Like This: