One of the great things about working on Race-Calendar is the ability for us to interact with people from all over the world. We have over 60,000 followers on our Facebook Page and they are literally from all over the world. Every continent, and almost every country have runners who like what we do. It's very, very humbling. However it does show that running is truly a global pastime and sport for millions of people around the world.
The sport of running has participants from every demographic, and it truly cuts across classes. There are too many examples to note in this newsletter, of runners who have emerged from impoverished societies and beat the world over and over again. It's humbling to think in this day and age, where money and power really does talk, all you need is a pair of running shoes to participate. Hell….you don't even need a pair of shoes if you don't want to, or can't afford them…. Just run!
Merry Christmas to all our friends, followers and fans of Race-Calendar.com
 Q&A with Freya Murray| British Olympic Runner: We are really lucky last week to have the opportunity to interview Olympic marathon runner Freya Murray.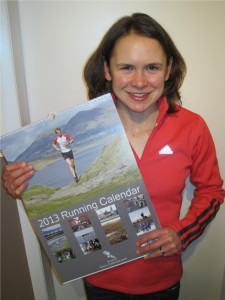 Excerpt: Freya Murray was the first British woman home in the 2012 Olympic Marathon in London. She qualified for the race after a nail-biting wait to see whether Paula Radcliffe would compete. Her time of 02:28.10 in the Virgin London Marathon was followed by 2:32:14 in the Olympic competition.
You can view the full transcript of the Freya Murray Interview here.
Featured Pre Race Report – The Sahara Marathon:
We thank Ben White for providing us a pre-race report and thoughts on the upcoming Sahara Marathon in Febuary 2013.
A day or so later, I came across a website for "The Sahara Marathon" (www.SaharaMarathon.org). This wasn't the Marathon Des Sables (that already having been ruled out on account of being too tough for our first go at endurance running, chickens that we are), this was a marathon that involved staying in a refugee camp for a week and running a marathon in the middle of the week across open Sahara desert. Check out the full article here.
Weekly Running Inspiration: 
Race Reports and Photos:
Race Report: 2012 Jacks Trail Race Thank you all for making the 5th Annual Jacks 25k/50k Trail Race a great success! We had 49 registered runners! All the races were exciting as anticipated with 1 new course record set in the 50k and 3 set in the 25k. Both relay teams set some great times that will be hard to beat in future years.
Race Report: 2012 AVR Wiltshire Half Marathon Sunday saw the biggest race held in the West Wiltshire Area for many years with local run club Avon Valley Runners raising funds for Wiltshire Air Ambulance by hosting the AVR Wiltshire Half marathon.
Press Releases:
10 Peaks announce an additional race location for 2013 – The Brecon Beacons 10 Peaks, who recently welcomed Clif Bar as their new title sponsor, are proud to announce a new race location for 2013. In addition to the Lake District 10 Peaks race, which will be run on 29th June, 2013, they will also be running a 10 Peaks Brecon Beacons race on 7th September, 2013. Both races are qualifying events for The North Face® Ultra-Trail du Mont-Blanc® with the Lakes race carrying 2 points and the Brecon race earning you 3 points.
Shire confirms a Third Year of Sponsorship for the Basingstoke Half Marathon Shire Pharmaceuticals have announced their commitment to sponsor the third year of the Basingstoke Half Marathon, after two successful years, and the race is set to open for entries in the next few days.
Featured Race Map: Note the Northwest Artic Race |Santa Loves2Run!
Races in Canada courtesy of Race-Calendar.com. Add a race. Embed Map
The team at Race-Calendar sincerely wish you a very Merry Christmas and New Year
More Like This: