Hey runners,
It's been such a busy week at Race-Calendar.com that once again, I'm behind on the uptake, and the newsletter is coming to you a day late. I've been told to get me act together or else……..No…not really, but the blow torch on my behind does help move things along.
Down here in the land of plenty, scorching temperatures are making going for the daily run a real chore. Temperatures are not moving lower during the night, and the humidity is oppressive….but…..we keep putting one foot in front of the other and crank out those km's. You do feel at the end of the week though that you really and truly earnt those kilometres like never before. Not complaining though, it's so satisfying, and I couldn't really comprehend going out the door into snow for the daily run, like our fellow runners in many parts of the northern hemisphere!
ONWARDS…..
Interview with Marco De Gasperi:
Marco De Gasperi is 6 times World Mountain Running champion, 3 times winner Sierre Zinal and winner of the Jungfrau Marathon 2010. Recently he was kind enough to give an interview to Race-Calendar:
Who do you train with?
I am used to train mostly alone when I'm at home in Bormio. I like to listen to my feelings and choosing my pace day by day.
Sometimes, when the trainings are more intensive, I like sharing the company with some good runners (Max and Luca), that live nearby. In summer time, I spend some weeks in training camp at a higher altitude. Here, my colleagues have been the same for 10 years! They come from different parts of Italy, but the efforts we have made have built a solid friendship.  FULL INTERVIEW HERE
Weekly Running Inspiration:
Not specifically about running…but cool none the less!
Race Reports & Photos:
Race Reports: Lancaster & Morecambe Performances March 2013
Last Saturday saw a small number of runners from Lancaster & Morecambe AC take part in the Stanley Park 10k road race in Blackpool.
First back for the club was Louise Goddard, with a superb run of 42m.28 placing her seventh female, first in the veteran 45 category and 62nd overall. Close behind was Michael Roy with a fine run of 43m.37 finishing 74th. Emily Stapleton ran well in 52m.05, followed by Helen McGregor in 56m.37. Super veteran Evelyn Elkington had a fantastic run, winning the veteran 75 category with a time of 1h.03.33.
Race Photos: Runners Need G3 & Powerbar 10K, March 2013
The final of the three Runners Need G3 cross country running races took place last Saturday, and the Powerbar 10k took place at the Triathlon Show at Sandown Park on the Sunday. Both were organised by All About Triathlons.
Over 1500 people compete in largest ever winter nuts challenge 
The 'Nuts Challenge' is one of the longest and toughest military assault courses in the world. Based in Dorking, Surrey the 7 km course is owned and run by ex-parachute-regiment soldiers and is designed to push 'Nutters' to their absolute limits.
Running Press Releases:
Registrations are now open for Year 3 of the Amazing Maasai Ultra marathon, to be held in Laikipia North on 28 September. Runners from across Europe, Asia and the US are set to gather again in the foothills of Mt. Kenya for this unique running challenge and to experience life in the African bush. The 6-night race package option includes game drives, walking safaris, traditional Maasai village tours & performances. Weekend packages are also available.
Upcoming Races:
Georgia Spartan Sprint @ Steeplechase Area, Conyers, Georgia, United States on 09 March 2013
The Major Series @ Eridge Park Estate, Tunbridge Wells, United Kingdom on 09 March 2013
Motatapu Arrowtown.com 15km Miners Trail Run/Walk @ Butlers Green, Arrowtown, Otago, New Zealand on 09 March 2013
Georgia Spartan Sprint Race @ Georgia International Horse Park, Conyers, GA, United States America on 10 March 2013
Cyprus Marathon 2013 @ Pafos Mediaeval Fort, Pafos, Cyprus on 10 March 2013
Tåsinge Løbet @ Eskærvej 65, Vindeby, Svendborg, Denmark on 10 March 2013
Featured Race:
Cyprus Marathon 2013 @ Pafos Mediaeval Fort, Pafos, Cyprus on 10 March 2013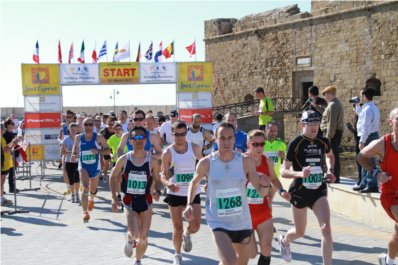 Event Name: Cyprus Marathon 2013
Distance (KMs): 42,195 & 21,098 & 10,000
Distance (Miles): 26.2 & 13.1 & 6.2
Terrain/Type:
Date: 10 March 2013
Start Time: 08.00
Venue: Pafos Mediaeval Fort
Best Time (Men): 2:33:02
Best Time (Women): 2:59:49
Organised By: Stavros Kakourides
Race Website: Click Here.
Race Facilities
Has Toilets? Yes
Has Changing Facilities? No
Has Water Stations? Yes
Has Prizes / Awards? Yes
Race Description
Hundreds of runners will be hitting the streets of Pafos on Sunday 10th March 2013 for the annual running of the Cyprus Marathon. The Cyprus Marathon is a unique and an extremely popular event that hosts every year over 500 runners and many hundreds of cheering spectators. It is an opportunity for all runners to run under Cyprus winter sun and have fun! All participants will receive a souvenir T-shirt and a finisher's medal. Trophies will be awarded in 50 different age group categories. The entertainment activity programme will include a dancing group who will perform both Greek / Cypriot folk dance and invite runners and spectators to join in. Braiv Health Clubs will organize a 15' warm-up session before the start of the Half Marathon & 10 km at the Pafos Mediaeval Fort square.
The Headquarters of the Cyprus Marathon will be at the 'En Plo' Pafos Municipality Exhibition Hall nearby the Pafos Mediaeval Fort. All three races will start and finish at the Pafos Mediaeval Fort Square nearby the Pafos fishing harbour.
A lot of runners every year do not miss the opportunity to experience the festive atmosphere and the cheering crowds along the fantastic race course. More info and online registration for the 2013 Cyprus Marathon www.cyprusmarathon.com
Feature Race Map: Kenya
Races in Kenya courtesy of Race-Calendar.com. Add a race. Embed Map
Have a great running week | The Team at Race-Calendar.com
More Like This: