It is hard to buy presents for someone whose hobby, pastime, pleasure and (with us, perhaps) obsession is running. We're runners, so we know. Sometimes, we're a little too discerning when it comes to training clothing; shoes; headgear; jackets; ipod carrying devices; GPS devices, and whatnot.
We buy most of our running equipment out of necessity, but our loved ones would love to buy us a gift we will enjoy. But how? Chances are, if we need it, we've already bought it; if we don't need it, we won't use it.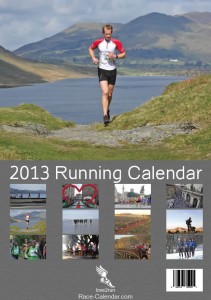 This is where our 2013 Running Calendar – an A3 wall hanging designed to last right through the year in 2013 – can come in super-handy: as a gift for the runner who already has everything!
If you have a friend, family member, spouse in your gift list that you know is a runner, chances are slim that they've already bought or been given our 2013 Running Calendar – how do we know? Because we've just had them printed, that's how! Also, because of the nature of a calendar, having two is not going to be the end of the world – one for the office, and one for the home; one for the kitchen and one for the den. Whatever the case may be, having two calendars is certainly not a problem when the pictures inspire the runner to get out and hammer the miles on the road!
So, while a being given a GPS watch when you've already got (a slightly better) one would be a bit of a problem on Christmas morning, opening a running calendar when you've already got an ordinary calendar would not!
Visit our shop to order the 2013 Running Calendar – click here. Or, if you are in the USA, you can get free shipping from Amazon.com by clicking here. Buyers in the UK and several European countries can get free delivery from Amazon.co.uk, too, just click here.
More Like This: