This report is from the organisers of the 2012 Oakville Half Marathon:
6th Annual Oakville Half Marathon, 10K, 10K Student Relay & Whole Foods Market 2K Run/Walk for Charity

September 23rd, 2012 – Oakville, ON – Over 2,000 runners and walkers were treated to an outstanding day at the 6th annual Oakville Half Marathon that included a half marathon, 10K, 10K Student Relay and Whole Foods Market 2K Fun Run/Walk.  Local residents and runners from across Canada, USA and even as far as Jamaica, Poland,  Kenya and Ethiopia enjoyed the beautiful route on the roads that crest along Oakville's downtown and waterfront neighbourhoods.  The Oakville Half Marathon continues to be one of the most beautiful runs in the country!

Lucas McAneney of Toronto, had an exceptional run to capture the men's half marathon victory with a time of 1:10:56. First overall female in a course record time of 1:23:06 was Allison Drynan of Toronto.

10K men's winner was Sergio Raez of Mississauga with a time of 35:05 and the female winner in a course record time of 37:39 was Amanda McLeod of Port Colborne.

Event organizers from Landmark Sport Group are "very pleased with the record setting turnout this year" said Ben McCarty Race Director.  "The weather was perfect for our runners – there were many personal bests today. The community support was outstanding and the volunteers were fantastic.  Our race continues to grow every year.  There were 1,028 in the Half Marathon, 614 in the 10K, 12 teams in the 10K Student Relay and 340 in the Whole Foods Market 2K Fun Run/Walk.  With increased numbers comes a stronger pool of competition, a wider range of recreational runners and more people fundraising.  And we are even more thrilled to add the new Student Relay this year."

The Oakville Half Marathon also kicked off Sports Day in Canada which will feature more than a thousand other local events and activities this coming week.  Sports Day in Canada will officially be celebrated on Saturday, September 29th with a special television broadcast on CBC Sports. The Oakville Half Marathon's emcee was Scott Russell of CBC Sports who will also host the CBC televised broadcast.

The Oakville Half Marathon supports the Colorectal Cancer Association of Canada, Oakville Hospital Foundation, Oakville YMCA, Kerr Street Ministries, Reach for the Rainbow and the Crohn's and Colitis Foundation of Canada – Halton Chapter.
Race Photos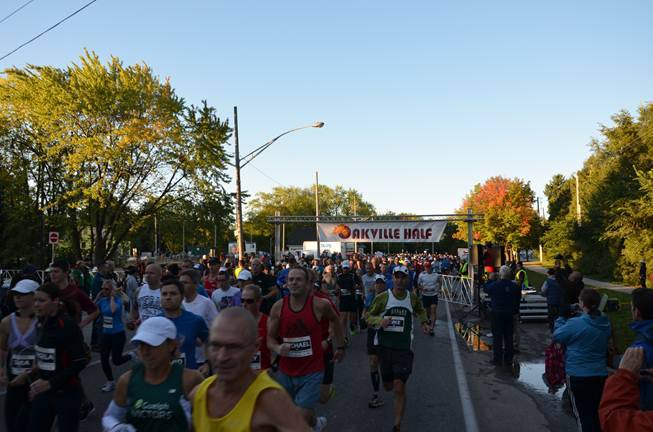 Race Listing
For full details of the 2012 Oakville Half Marathon including results, click here.
More Like This: