Howdy runners,
The seasons are definitely changing for all of us. Australia is entering springtime whilst in Europe & North America, the Autumn season, or "fall", is beginning its spectacular display of fiery foliage.
For racing, conditions are perfect.
Your Weekly Running Inspiration
The invention of the Mobot.
Every elite athlete now needs a dance move, thanks to Usain Bolt. In true British style, a group of comedians & sportsmen came together to re-brand Mo Farrah ahead of the Olympics, resulting in the move which has spread all around the world and even appeared at Number 10 Downing Street:
Race Reports, Results & Photos
Race Report: Oakville Half Marathon & 10k, Canada
Over 2,000 runners gathered to race ahead of Canadian Sports Day on 29th September 2012.
Race Report: 2012 Wetherby 10K, Yorkshire, UK
The Race-Calendar.com Team stretched their legs on a warm day to earn some large commemorative mugs from Wetherby Harriers.
Race Photos: 2012 Swinton 10 Mile Road Race
Manchester saw a full field of athletes, club runners and unaffiliated competitors racing on Sunday.
Upcoming Races
Round Ripon Ultra 35 on 6th October 2012

Stunning scenery in North Yorkshire, UK. Race this famous route solo or as a relay team.
2012 Arundel Volunteer Fire Department 5k/10k Rescue Run

A fun run to support your firies at Crofton Country Club, Crofton, MD, United States on 06 October 2012
Running Deals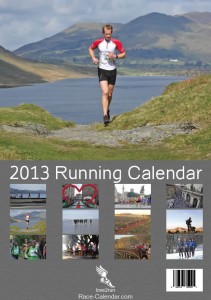 Free delivery is now available on the 2013 Running Calendar from Race-Calendar.com when you checkout through Amazon.
Iconic & Inspiring Images
The team at Race-Calendar.com have teamed up with races from around the globe to bring you 12 inspiring & iconic images from races in Italy, the Czech Republic, Canada, New Zealand and more.
12 Inspiring Race Photos
Over-Sized Sunday slots for Runners
Room to add your notes or training plans on any day
Produced by people who love2run, for people who love2run
At £14.99 or $23.50, the calendar is a great gift for the runner who has everything!
That's all from the Race-Calendar.com Team this week.
Keep enjoying your running.
More Like This: